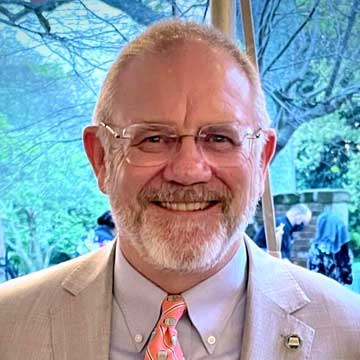 Dr. Christopher Colenda, Anderson, 1970
Subsequent to his 1970 graduation from Cincinnati's Anderson High School, Dr. Colenda began his collegiate career at the United States Military Academy at West Point, and received an honorable discharge from the United States Army secondary to an injury at West Point. He continued his undergraduate education in Chemistry at Wittenberg University in Springfield, Ohio, and matriculated to the School of Medicine at the Medical College of Virginia/Virginia Commonwealth University (MCV/VCU), Richmond, Virginia, in August of 1973. He received his A.B. degree in Chemistry with honors from Wittenberg University in June 1974, and his M.D. degree from MCV/VCU in May 1977. During his Preventive Medicine Residency Training at the Johns Hopkins University Bloomberg School of Public Health, he received his M.P.H. degree May 1982.
Following post graduate residency and fellowship training at University Hospitals – Case Western Reserve University; the University of Virginia Hospitals; Johns Hopkins University Bloomberg School of Public Health; and Emory University Affiliated Hospitals, his academic career journey included five universities, multiple leadership positions in national organizations, and international recognition as a physician-scientist specializing in geriatric neuropsychiatry and clinical health services research. He has published over 190 peer-reviewed abstracts, papers, book chapters or books. He is an elected member of the medical honorary society Alpha Omega Alpha and the scientific research society of Sigma Xi.
His initial faculty appointment in 1985 was at MCV/VCU where he served as Director of Geriatric Psychiatry and the Geriatric Psychiatry Fellowship Training Program, in the Department of Psychiatry, with joint appointments in Internal Medicine and Gerontology. In 1990 he was recruited to Wake Forest University School of Medicine where he served as Section Head of Geriatric Psychiatry; Associate Chair for Clinical Affairs; Associate Director of the Sticht Center on Aging; and Directory of the Alzheimer's Disease and Memory Disorders Clinic. In January 1997 Dr. Colenda became Chair of the Department of Psychiatry at Michigan State University's College of Human Medicine, where he also served as the founding Medical Director for Senior Services at the Sparrow Health System and Acting Dean of the College of Human Medicine (1980-81).
In January 2003 Dr. Colenda was appointed as the Jean and Thomas McMullin Dean of Medicine for the College of Medicine at Texas A&M University System Health Sciences, and assumed added responsibilities as Vice President for Clinical Affairs in January 2009. In November 2009 he was recruited to West Virginia University to serve as Chancellor for Health Sciences, and assumed additional responsibilities as President and CEO of the West Virginia University Health System (WVU Medicine) in January 2014. As Chancellor he was the architect of a number of strategic initiatives that included the establishment of a School of Public Health; NIH's IDeA Clinical and Translation Research Award, restructuring the academic clinical practice plan and mission support agreements, and establishing the Interprofessional Health Education Center. At the time of his September 2016 retirement from the WVU Medicine, the health system had become the largest in

West Virginia, consisting of 8 owned and affiliated hospitals including WVU's flagship academic medical center Ruby Memorial Hospital in Morgantown. With 2016 revenues exceeding $2.0 billion, WVU Medicine employed nearly 12,000 people, 900 physicians and cared for a quarter of West Virginia's hospitalized patients.
Shortly after retiring as President and CEO of WVU Medicine he established Colenda Consulting, LLC, and was appointed adjunct Professor of Gerontology and Geriatrics, in the Department of Internal Medicine at Wake Forest University School of Medicine.
Dr. Colenda has been a leader of many national medical and academic society organizations during his career. Most notable include: Chair of the Liaison Committee for Medical Education (LCME); Vice Chair of the Board, Chair of the Psychiatry Council, and Treasurer of the American Board of Psychiatry and Neurology (ABPN); Executive Board of the National Board of Medical Examiners (NBME); Board of Directors for the Accreditation Council for Graduate Medical Education (ACGME). He served on the Administrative Board of the Council of Deans for the Association of American Medical Colleges (AAMC). He has also served on National Institutes of Health scientific research review panels, and provided testimony to Congress on late life neuropsychiatric disorders and access barriers to care for military veterans.
He was a member of the Psychological Health External Advisory Subcommittee of the Defense Health Board, U.S. Department of Defense during the Iraq and Afghanistan conflicts (2008-11). He co-chaired two American Board of Medical Specialties (ABMS) commissions: the Vision Commission: The Future on Continuing Board Certification (2018-19), and Special Committee on Physician Executives and Continuing Maintenance of Certification (2015-16). He chaired the Council on Aging for the American Psychiatric Association (APA) (1997-2000), and was President of the American Association for Geriatric Psychiatry (AAGP) in 2006. He was appointed by the American Hospital Association to its Health Systems Governing Council in 2016. Between 2017-18 he was Senior Advisor to the AAMC for Veterans Affairs.
Notable awards received during his career include: the Edithe J. Levit Distinguished Service Award from the NBME, Distinguished Service Award from ABMS, Jack Weinberg Award in Geriatric Psychiatry from the APA, Who's Who in America in 2003 and 2017; 2015 Becker's Hospital Review List of 100 Physician Leaders of Hospitals and Health Systems; Outstanding Faculty Award from the College of Human Medicine at MSU; Distinguished Fellow of the APA; Distinguished Fellow of AAGP; the Alumni Star Award for the School of Medicine of MCV/VCU; and the Excellence in Psychiatric Education Award from the Department of Psychiatry at MCV/VCU in 1986.