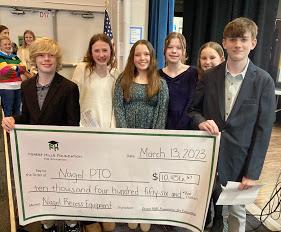 The Forest Hills Foundation issued its first call for applications for the PTO/PTA Community Grants in January 2023. The grants are intended to promote wellness, provide innovative opportunities for learning, and create community connections for all students.
Congratulations to the 2023 Recipients!
$19,000 awarded for 5 New Projects!
$10,457 to the Nagel Middle School PTO to create an outdoor space to support the implementation of recess by installing shaded seating and basketball hoops. The project will support the physical, social, and emotional wellness of students by creating space for peer interaction, a mental break, and physical activity. All students at Nagel will benefit from the outdoor space. The Nagel PTO has already allocated $10,000 for the outdoor space through its student-led grant project. FHFE's investment will allow the project to be completed.
$7,000 to the Mercer Elementary PTO to install sensory-focused play equipment on the Mercer campus, which will allow integrated and accessible physical play and learning for the Forest Hills Extended Services Classrooms (ESC) and Mercer traditional students K-6th Grade. The project will remove physical, social, and emotional barriers that prevent ESC and traditional students from full peer-to-peer engagement. Mercer anticipates that 700 students will be impacted by the project. FHFE's investment will match the $7,000 already raised by the Mercer PTO. The PTO will continue to raise additional funds to support this effort.
$1,000 to the Mercer Elementary PTO to create an instructional garden to expand students' learning. Teachers will use the garden to enhance students' learning in science, math, art, and more. All students at Mercer will have the opportunity to benefit from the garden. FHFE's investment will support the establishment of the garden. The PTO will raise additional funds to maintain the garden.
$500 to the Mercer Elementary PTO to support a pilot program to transport Mercer students to the Boys and Girls Club. The Boys and Girls Club provides a safe, enriching space for children at no cost to families. The project supports the wellness of students by providing after-school care, social interaction, tutoring, and other support. Mercer anticipates that 15 students will be impacted through the pilot and hopes to garner additional support from the community to sustain the program.