[space height="30″]
The purpose of the AHS Alumni association:
To aid and encourage Anderson High School students in the benefits of a higher education.
To encourage the Alumni of Anderson High school to join together to raise funds to help students with scholarships.
To preserve the history of the school and of the alumni for the benefit of future generations.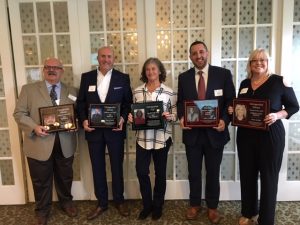 2019 Distinguished Alumni Award Honorees
Four alumni and one retired staff member were honored at the 2019 Distinguished Alumni Awards. This year's honorees included:
(L to R) Wes Boatman (AHS '69), Tim Marcagi (AHS '76), Gail Maundrell (Turpin teacher, coach & AHS grad), Samir Daoud  (THS '02), and Christa Long Martin (THS '86).
To read more about the 2019 honorees, click here.
The Turpin Alumni Association, the Anderson Alumni Association and the Forest Hills Foundation for Education hosted the Distinguished Alumni Awards. Alumni were honored for their professional achievements in career, humanitarian service, volunteer activities, community service, and/or history of helping others.
[space height="30″]
Past Honorees:
2018:  Dennis "Wildman" Walker '69 and Gary Philbin '75 and retired teacher Sandra Coleman.
2016:  Forest S. Heis '62, Nader Masadeh and FHSD teacher and coach Dan Bartholomew.
2015:  Cindy Richey Livingston '69, Dan Fleming '81,
2014:  Jeanne Miller '59, Mike Brandy '74, Mike Craycraft '90.
2013:  Dr. Howard Bell '66, Bob Coughlin '79, and John Hayden '75.
[space height="30″]
To nominate an Anderson alumni for next year, download the 
AHS Distinguished Alumni Form
 and email it to info@fhfe.org or mail it to the address indicated.
You can also connect with alumni on facebook: