The goals of the Turpin Alumni Association are alumni communication, event planning and community building.  If you are interested in helping with the Alumni Association, please email info@fhfe.org.
For more alumni information about Turpin Alumni events, check out Turpin High School Alumni on facebook.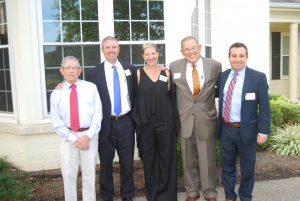 2016 Distinguished Alumni Award Honorees Four alumni and one retired staff member were honored at the 2016 Distinguished Alumni Awards luncheon this past October at Ivy hills Country Club. This year's honorees included:
Forest S. Heis (AHS '62), Stacy Sims (THS '79), Nader Masadeh (AHS '90), and Doug Prince (THS '85).
Also honored was retired Forest Hills staff member Dan Bartholomew who taught and coached in the district from 1967 to 2013.
The Turpin Alumni Association, the Anderson Alumni Association and the Forest Hills Foundation for Education hosted the Distinguished Alumni Awards. Alumni were honored for their professional achievements in career, humanitarian service, volunteer activities, community service, and/or history of helping others.
Past Honorees
2015:  Rick Haynes '79, James Ackley '87 and THS Staff member Jerry Gunning.
2014:  Pete Delois '78, and Stephanie Cone Laing '87.
2013:  Michael Fortin '81, Kristin Sherwin Meyer '90, and Laura Phelps Sweatt '98.
To nominate a Turpin alumni for next year, fill out the 
THS Distinguished Alumni Form
 and email it to info@fhfe.org or mail it to the address indicated.